Kunak AIR Pro
Air quality monitor
Measure air pollution with accurate and reliable data
SENSOR-BASED | BEST AVAILABLE ACCURACY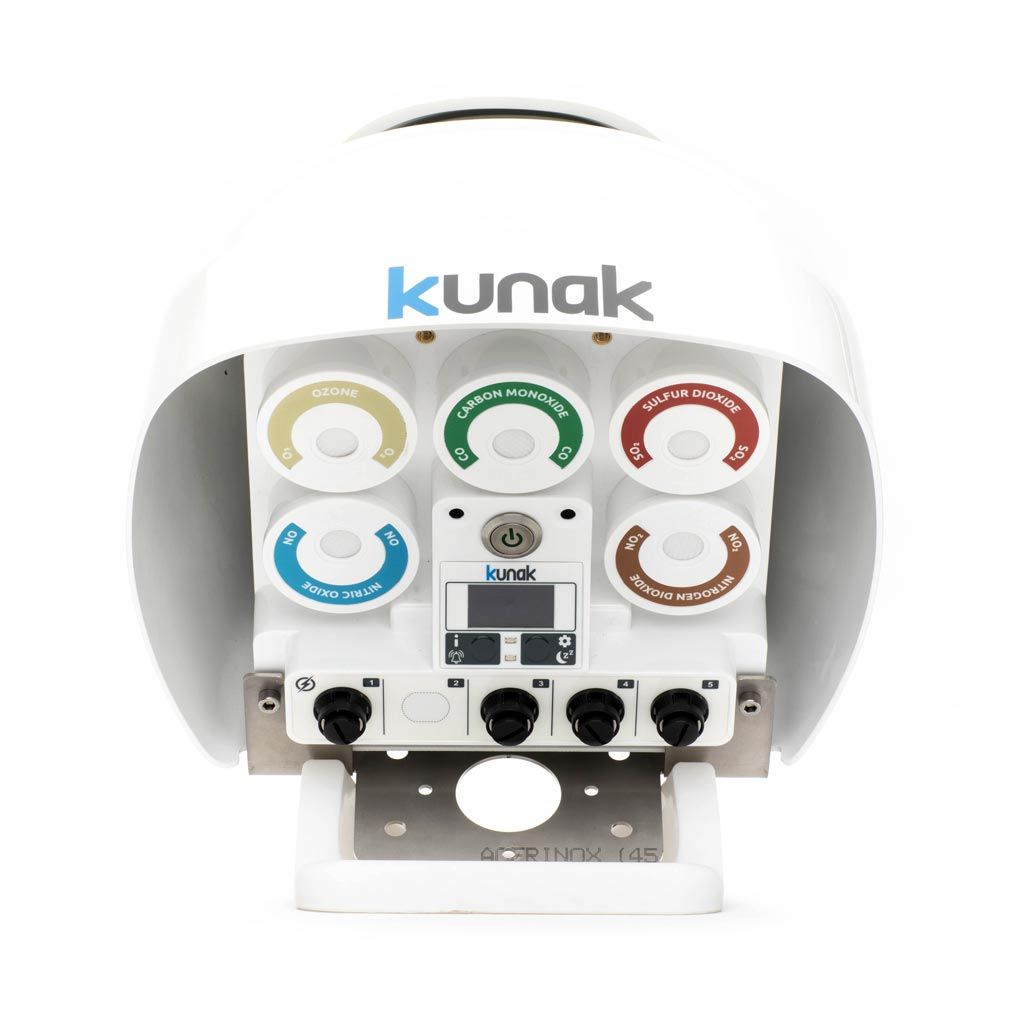 You deserve good air quality.
Monitor up to 5 pollutants and particles simultaneously and get real-time data on the quality of the air you breathe.
Measure the impact of your activities and see if your decisions to ensure good air quality are really effective. Visualise and analyse all data in one place thanks to the Kunak AIR Cloud web platform.
Get accurate data on a wide range of pollutants.
With the most versatile solution on the market, you can choose the pollutants to measure for each project. Thanks to its patented smart cartridge technology, you can replace them whenever you need to.
Quality guaranteed. All our sensors are factory calibrated and tested and include their calibration certificate.
Patented cartridge system
Start improving the air quality in your community today.
Get the award-winning solution as the most accurate multi-pollutant sensor and start taking effective action to improve air quality. With the Kunak AIR Cloud web platform, you can easily visualise and analyse the data collected by the sensor network and make better decisions.
Our solution has been tested by the world's leading air quality experts.
Data quality is a key issue since data of poor or unknown quality is less useful than no data since it can lead to wrong decisions. (Snyder et al., 2013)
Benefits
Accurate, real-time pollution data.
Easy & Fast installation
Set up in less than 10′ with visual diagnosis in a built-in display
Cartridges
system
Replace and combine cartridges with a plug & play system
Proven
accuracy
Designed for type approval & certification
Easy
calibration
Adjust the baseline and span remotely
Air quality
platform
Visualise, analyse and manage your data in the cloud
Multi
pollutant
Measure up to 5 gases and particulate matter at once
Fully
autonomous
Autonomous operation with its built-in battery and solar panel
Real-time
data
Access to your data and alarms in real-time
Additional probes
Connect wind, rain, noise, and other sensors
We facilitate decision-making with accurate environmental data.
Software
With our advanced air quality software Kunak AIR Cloud, you can easily analyse all the data collected by the Kunak AIR stations and generate reports for decision-making. 
In addition, you can configure the deployed devices and have an alarm system that facilitates remote operation and maintenance of the network in an easy way.
Integrate the data collected by the network and stored by the server into public air quality platforms or third-party applications using the powerful API Rest.
If required, the API also allows you to integrate data from external sources to complement the information provided by the monitoring network and analyse all data on a single platform.
257 x 270 x 225 mm / <3.5 kg
PMMA, polycarbonate and stainless steel
-20 ºC to 60 ºC / 0 to 99 %RH
7 – 12 Vdc. charger or solar panel
24/7 with solar panel or charger
0.08-1.2W (depending on configuration)
Cellular / Ethernet / Modbus RTU slave
Temp. / Humidity / Atmospheric pressure / Dew point
#1: Power 7V to 12V or Ethernet
#2: Modbus RTU slave
#3: Sound meter, UV
#4: WBGT, pyranometer, Modbus RTU master
#5: Anemometer & Rain gauge
From 10 seconds to a maximum of 24 hours
From 5 minutes to a maximum of 24 hours
Embedded eSIM and SIM holder
Solar panel

Solar panel

The 6.3-volt high-efficiency monocrystalline solar panel is robust, waterproof (IP67) and has been designed for prolonged outdoor use in any environment.

See more

Outdoor charger

Outdoor charger

Small, lightweight and waterproof and has been designed for prolonged outdoor use in any environment. To be used when the Kunak AIR stations are going to be installed outdoors.

See more

Indoor Charger

Indoor Charger

An indoor charger with global plugs is available for testing and verification.

See more