Kunak AIR is the solution for air quality monitoring.
Kunak AIR maintains the advantages of size and cost compared to reference stations but aims to be as accurate as a reference station complemented by the multiple functionalities offered by the Kunak AIR Cloud web platform, the advanced data analytics software collected by the monitoring network.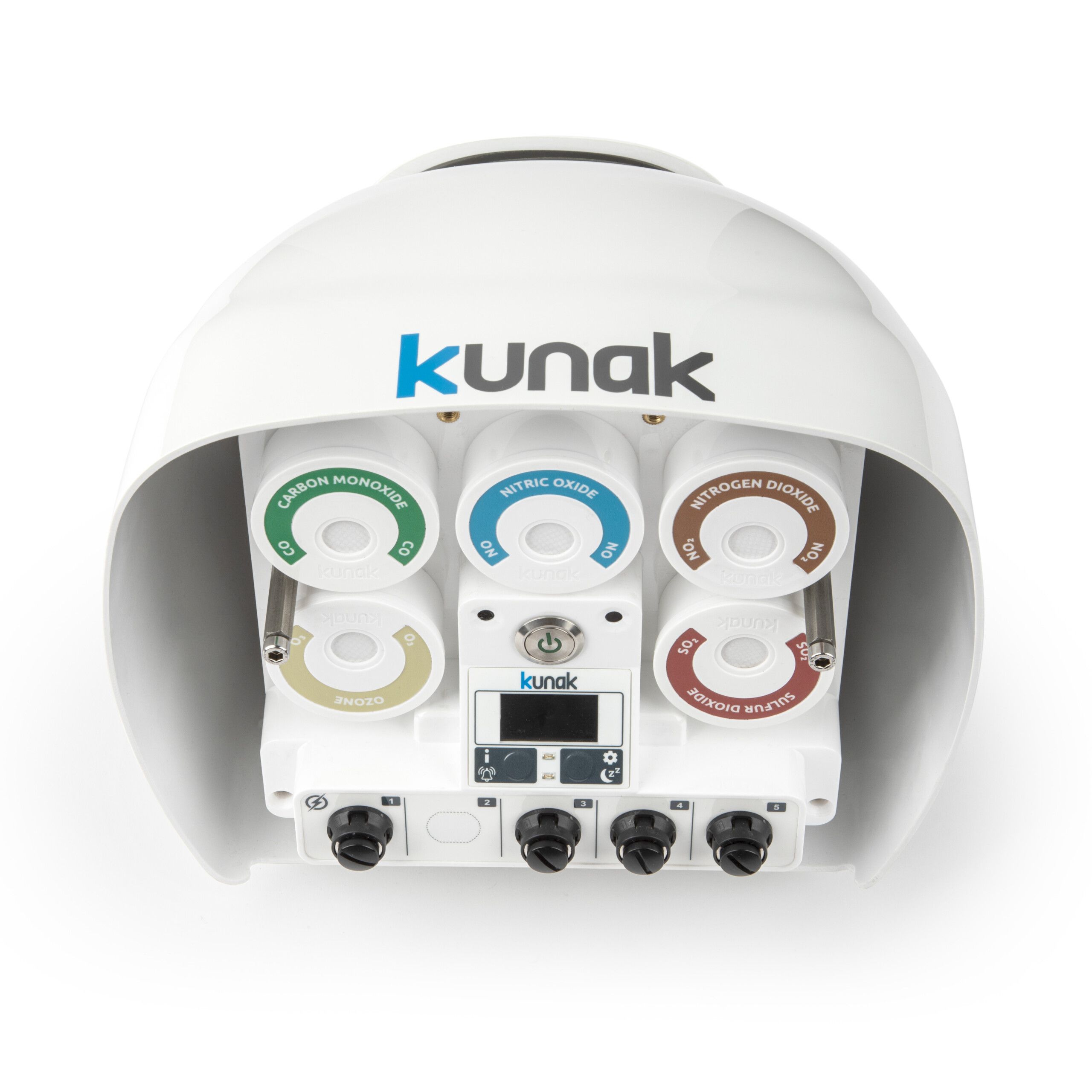 The air quality monitoring station for professionals
After 7 years of designing and deploying small air quality stations all over the world, we have created Kunak AIR, a huge evolution of our previous sensor-based air quality monitoring station designed to solve all the lifecycle challenges of an air quality product, its operation and maintenance, as well as the need of every environmental project.
Its multipollutant cutting-edge design includes environmental sensors as well as connectors for external weather sensors or probes which, together with its solar panel operation and real-time wireless data transmission makes the Kunak AIR the most advanced air quality monitoring station on the market.
Easy & Fast installation
Set up in less than 10 minutes with visual diagnosis in a built-in display.
Cartridges system
Replace and combine cartridges with a plug & play system.
Proven accuracy
Designed for type approval & certification.
Easy calibration
Adjust the baseline and span remotely.
Air quality platform
Visualize, analyse and manage your data in the cloud.
Multi pollutant
Measure up to 5 gases and particulate matter at once.
Fully autonomous
Autonomous operation with its built-in battery and solar panel.
Real-time data
Access to your data and alarms in real-time.
Add environmental sensors
Connect wind, rain, noise, and other sensors.
Kunak AIR includes a base station and a cartridge system which integrates the pollutants sensors and its electronics.
The data monitored by the Kunak AIR is sent in real-time through GPRS, 3G, 4G or Ethernet to our Kunak Cloud for data management and remote configuration of the stations.
PATENTED TECHNOLOGY
Smart Gas Cartridges
Kunak AIR are sensor-based stations designed to measure gases and PM at the same time. Equipped with slots to insert Smart gas cartridges, which solve many of the known issues of sensor technology: sensor variability, factory and field calibration, automatic data invalidation, sensor replacement, network operation and maintenance work.
Kunak's Smart gas cartridges ensure measurement control throughout the life cycle of each sensor, making the Kunak AIR solution more sustainable and our customers' lives easier.
Traceable QC & QA
Each cartridge is calibrated and validated individually in lab against traceable reference standards.
Endless combinations
Combine the Parameters freely. Reuse and scale your basestations at your own pace.
Plug & Play
Simply take the old one out and replace easily with the new one, on the field. Be back online in 2′.
Gas & Plug Technology (patented)
All the cartridges have the same size and fit in any of the five available sockets. Inside the cartridge, we install the sensor and its electronics that store all information: type, age and factory calibration.
When you plug the new cartridge, the base-station just reads the information, configures itself and starts working.
An advanced platform for air quality networks remote management and noise levels analysis.
Our web-based air quality monitoring software, Kunak AIR Cloud, helps environmental professionals to use and understand air quality data and delivers operational environmental intelligence to make informed decisions.
Thanks to our bidirectional software, Kunak AIR Cloud offers professionals a new way to handle remote settings configuration, alarm management, calibration, and field operations.
Kunak AIR Cloud is a flexible modular software suite designed for easy user account management, easy network operation, easy data validation, easy analysis, and reporting. Secure your clients' satisfaction with scalability and 3rd party integration via API rest.
Control panel
Users management
Multiparametric analysis
Data validation & data reporting
Alarms log & traceability
CMMS